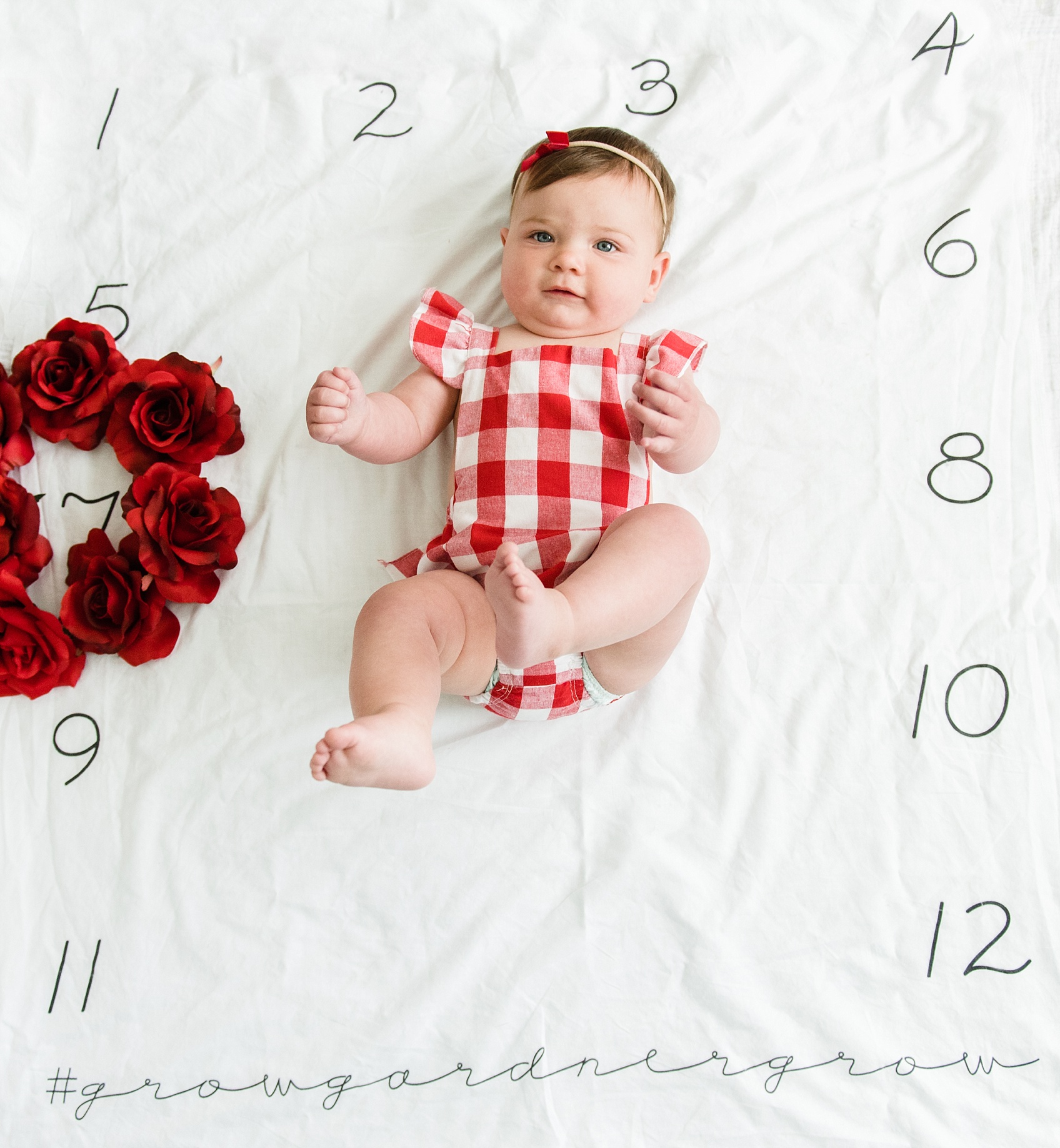 WHEW! This month was a big one. Between milestones, holidays, work, etc. This month was cram packed full of everything. Which is why the blog has taken a little bit of a break. I promise I will try to be better.
This month the little girl became mobile. Like, all over the place. It's changed our day-to-day drastically and keeps Mama on her toes. She doesn't like to stay put and is constantly "doing". In addition to crawling she can pull herself up on things and has decided that this is her favorite pastime of choice. (like, say, at 3:00 in the morning) Then to find out the 3:00 wakings were because Little Miss had two teeth come in! ( Bottom) We also decided to say our first word! "Mama"!! Even though she has no clue what she is saying yet, it was still the SWEETEST sound, ( That and when she "sings" while in the car)
We went lots of places (first road trip)  and did lots of things. Eloise joined me in a LOT of photo sessions, just hanging out in her stroller and watching the kids I was photographing. It made this time a little easier, though I am not sure how long this will last. ( The sitting nicely while watching mama photograph families thing)
All in all it was a fabulous month in the Gardner Household.
Fun Facts:
She is crawling-crawling. Not fake crawling, but real full crawl. Literally the DAY after I typed last months update.
Is pulling herself up and attempting to walk along. ( Her crib is a favorite)
Eating foods on the regular now! So far, we have liked everything we have tried!
Still loves kids! This month she picked up a few habits from kids. Like "fake coughing" and smacking her lips. It's hysterical.
Has one tooth all the way through and another almost there!
Started trying to clap. She hits her hand up and down ( on on top of each other) but she's working on it!
Started saying MAMA, but quickly decided to stop saying it
Started scrunching her nose and making a sniffing sound while laughing
This month in the Life of Eloise:
Took her first road trip to Grand Rapids and Holland Michigan!
Celebrated our first Mothers Day!
Went on our first trip to the Zoo with Grandma Atwood ( Loved the sharks in the big aquarium!)
Multiple play dates with lots of friends! (She ended up being kissed by 3 little boys and hugged by 4 in the span of a week…..she did NOT get that from me…..)
Visited Grandpa Atwood's Shop
First time in a pool!
First boat ride!!